Banquet hall tent
LUXTENT
Modern banquet hall tents
At LUXTENT, we specialize in creating exquisite tent banquet halls across the United States. Our use of cutting-edge tent structures not only enhances the visual appeal of your event but also offers substantial cost savings compared to traditional brick-and-mortar construction, providing you with numerous options for personalizing and decorating your banquet hall.
Celebration event hall tents
The key advantage of celebration hall tent lies in their stunning design, offering a perfect canvas for your special occasions:
The circular shape of our tents allows for the creation of a flawlessly symmetrical dance floor, setting the stage for memorable moments;
Our tents transform into vibrant banquet halls with the flexibility for various decorative enhancements, ensuring your event's unique character shines through;
The exterior of the structure stands out as a distinctive focal point, capturing the attention of all your guests;
Customized branding options empower you to personalize the design, adapting it to your preferences and needs.
Unmatched banquet halls design
The thoughtful design of our tents offers unparalleled versatility:
Easily integrate lighting and sound equipment onto the inner trusses of the tent's frame, ensuring a seamless and immersive experience for your guests;
Incorporate reflective canvases, expanding the possibilities of lighting and projection design, setting the stage for a truly unforgettable banquet.
Your ideal modern banquet hall tent
Unlocking the potential to manifest your ideal banquet space in the United States has become remarkably achievable. Our banquet hall tents, available for sale, boast not only captivating aesthetics but also exceptional lightweight characteristics in contrast to conventional structures. This enables seamless installation without the necessity for a foundation. Whether perched atop an existing building or standing independently, our modular design grants you the flexibility to customize the dimensions and configuration of your banquet hall according to your precise requirements. Explore the boundless opportunities for your event with LUXTENT's banquet halls for sale.
When organizing a banquet hall in a LUXTENT tent, beautiful photos are guaranteed. One of the main advantages of opening a banquet hall based on an arched tent is the construction speed.
Popular models of banquet tents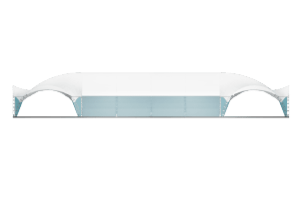 The ArcoTenso Grand structure is suitable for the construction of large banquet halls that can accommodate hundreds of guests under one roof. The banquet tents can be docked with other structures to form a covered hall of practically unlimited area.
Offered at affordable prices, our large banquet hall tent is the perfect solution for any large event. With a large and open frame and a waterproof awning, this tent ensures that your event runs smoothly – rain or shine! In addition to renting our large banquet marquees, we also offer installation services, so you can just sit back and enjoy your party!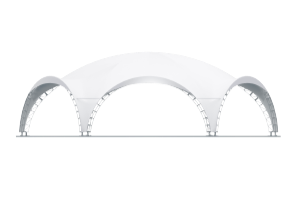 Arched tents provide a spacious and bright space for guests, as well as excellent protection from wind and rain. Due to their design, arched marquees can be of different sizes and shapes, which allows them to be adapted to any banquet events.
ArcoTenso multifunctional tents are perfect for organizing a banquet hall outdoors. Rounded lines, graceful frame and modern design will harmoniously fit any landscape.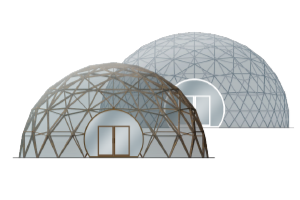 The original GeoTenso structure in the shape of a spherical tent made of high quality galvanized steel will become a real dominant in any place. For such designs, a transparent tent fabric is most often used, which effect is incredible. The panoramic view will not allow anyone to stay indifferent.
Dome tents for banquet halls are one of the most popular design options for outdoor events. Dome awnings are usually made from durable and lightweight materials such as galvanized steel and PVC coating, making them easy to install. They can be equipped with additional options such as lighting, air conditioning and soundproofing systems to create a comfortable atmosphere for events of any size.
Order a banquet tent project
The tent of your choice can be easily glazed. Frameless glazing, double or single-layer glass units, sliding or swinging doors – we offer various options of pavilion glazing.
We offer services in the field of tent branding. By printing on different parts of the pavilion and using wide-format banner printing, you can draw attention to the name of your company or create unique photo zones at your event.
In LUXTENT, you can order decoration services that will include (based on your wishes): embellishment of the dome and walls with designer fabrics and arrangement of the space inside and outside the pavilion using live and artificial plants.
We have taken parts in hundreds of events and celebrations. Take a look at our portfolio and review the range of tents to select a perfect, safe and reliable solution for your important event or your business.

Years of experience in cooperation with various restaurant business companies allow us to find the best solutions for the most unusual and exclusive orders. Therefore, we will find the best option for you or design an individual tent conforming to your requirements.

Our tents are multi-purpose; they are made to blend with the landscape, fit into any architectural forms and at the same time perform important functions.

We try to make our awnings not just functional, but also comfortable. Therefore, we offer unique solutions for creation of comfortable and convenient spaces for sports activities.

Our tents are characterized by durability and versatility as well as quality design. It makes them more than just functional premises and will help complement the site with a beautiful architectural solution.