Exhibition and trade show tents
LUXTENT
Tents for exhibitions and presentations
Participating in a thematic exhibition is considered the most accessible platform for the presentation of their products. Buying a tent for a trade show is generally several times cheaper than renting a separate exhibition pavilion of the same size.
But the main advantage of the tent exhibition pavilions is that they do not depend on the layout of the stationary premises. A variety of design models allows you to install a trade show tent of any size and shape, with the required number of showcases, windows and entrances.
Outdoor exhibition tents
The use of a tent for an exhibition in the US provides for only one format for the presentation of products– an outdoor exposition. It is therefore worth taking care of the comfort of visitors in advance. Depending on the season, heating and air conditioning systems are installed inside the exhibition and trade show tents.
An important part of any trade show is attracting visitors to your stand, and for this you need to grab their attention. A brightly decorated tent for the presentation of products will allow you to significantly stand out against the background of the surrounding stands and attract as many exhibition visitors as possible. Tent branding such as logo, brand name, product name or advertising slogans are applied directly to the outer surface of the tent, so there is no need to install billboards or banners.
Exhibition tents for sale in USA
Arched tents for the exhibition will be useful not only for its participants, but for organizers: if you have power and necessary communications supplied to the exhibition area, a large tent is suitable for long-term or permanent use as an additional exhibition area or information center.
Exhibition and trade show tents are the key to a successful presentation of the company's products. The LUXTENT tents will be ready to have the attention focused on your trade fair stand!
Options of exhibition tents and pavilions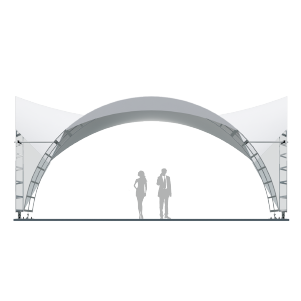 ArcoTenso is the best exhibition arch tent in the US. Outdoor exhibitions are a great way to showcase your products or services to the public. The ArcoTenso Trend arched tent model is used to accommodate exhibition areas up to 100 m2.
Depending on the theme of the trade show and the goals of the organizers, various exhibits, products, equipment, demonstration stands and information materials can be placed in the exhibition tent. All this will demonstrate the peculiarity of the work of your company or the products you produce.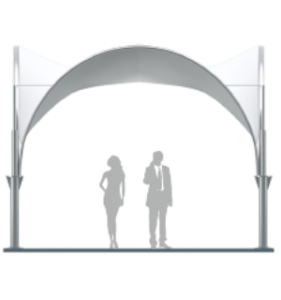 Using an outdoor exhibition tent is a great way to increase traffic to your pavilion. Trade show canopy come in different sizes, but we recommend that you pay attention to the design of ArcoTenso Prima, up to 25 meters. For comparison, the regular size of a passenger car is 5×2 m, that is, it is quite possible to install 1-2 exhibition copies.
This size will allow you to create a small exposure that will grab attention without being too overwhelming. Small trade show tent could be compared to stalls, with one big difference. An exhibition tent is primarily a way to attract the attention of visitors and tell about your products.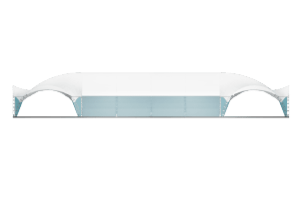 If we are talking about demonstrating large-sized products, for example, new models of construction or agricultural machinery, then a correspondingly larger tent structure is required. ArcoTenso Grand is a large exhibition tent, that does a good job with this task– their traditional look and shape create a business atmosphere and emphasize the theme of the fair.
Large exhibition pavilions are used for long-term events or to replace a fixed showroom. The tent pavilion will become the center of attraction at any trade show or exposition. Thanks to the unsupported frame, the tent pavilion will accommodate numerous spectators inside, as well as easily carry out a presentation of even large-sized goods. The pavilion can be used as separate tents, or as a single whole structure with a maximum area of up to 1500 m2.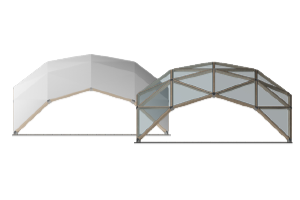 Wooden exhibition awnings are a stylish and unique solution for creating fair areas. EcoChalet tents are made of glued laminated timber and have a design that combines the aesthetics of natural materials and the functionality of the structure. Wooden tents can be made in various sizes and shapes, which allows them to be adapted to any needs of an exhibition, trade show or fair.
If you want to impress others not only with your products, but also with their presentations, we advise you to pay attention to the EcoChalet model. The design of the pavilion on a wooden frame with an awning cover will not leave indifferent spectators.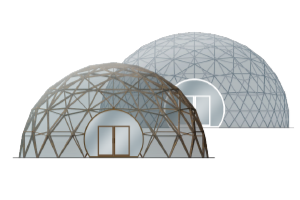 GeoTenso dome tents offer unique opportunities for creating impressive and functional spaces for exhibitions and presentations. Their distinctive design, robust construction, and flexibility in configuration make them an ideal choice for events of any scale. They attract visitors' attention, stand out from standard booths, and create a favorable atmosphere for presentations and product demonstrations. GeoTenso dome tents have a sturdy structure capable of withstanding various weather conditions, making them a reliable option for outdoor events or in unpredictable weather conditions.
Order a tent for the trade show
Add-ons for exhibition tents
Our exhibition tents can be easily customized with glazing options to suit your needs. Whether you prefer frameless glazing, double or single-layer glass units, or sliding and swinging doors, we provide a range of choices for pavilion glazing.
We provide tent branding services that allow you to effectively promote your company and create unique photo zones at your event. With our expertise in printing on various parts of the pavilion and utilizing wide-format banner printing, you can capture attention and prominently display your company's name.
At LUXTENT, we provide decoration services for exhibition tents, including embellishing the dome and walls with designer fabrics and creating a visually appealing space using live and artificial plants.
We have taken parts in hundreds of events and celebrations. Take a look at our portfolio and review the range of tents to select a perfect, safe and reliable solution for your important event or your business.

Years of experience in cooperation with various restaurant business companies allow us to find the best solutions for the most unusual and exclusive orders. Therefore, we will find the best option for you or design an individual tent conforming to your requirements.

Our tents are multi-purpose; they are made to blend with the landscape, fit into any architectural forms and at the same time perform important functions.

We try to make our awnings not just functional, but also comfortable. Therefore, we offer unique solutions for creation of comfortable and convenient spaces for sports activities.

Our tents are characterized by durability and versatility as well as quality design. It makes them more than just functional premises and will help complement the site with a beautiful architectural solution.