Riding hall
We produce, sell roofed riding halls and pavilions. Spacious tents LUXTENT make it possible to create spaces of any height without intermediate supports for horse breaking, riding and organization of competitions throughout the year. Ventilation and air conditioning systems make it possible to easily maintain a temperature that is comfortable for viewers and contestants inside the riding hall. All tents are made of high-quality durable materials and easily assembled, can be additionally branded and installed in almost any place.
Indoor sports complex for sale
We offer construction of sports arenas for trainings and competitions. Quick-assembly sport arenas are a great option for accommodation of multipurpose sports halls. They do not require a lot of time for assembly and special permits, as is the case with construction, while their cost is much lower than the cost of capital buildings. Framework and tent hangars by LUXTENT make active lifestyle available even in remote settlements and ensure comfort and safety of sports activities in any weather.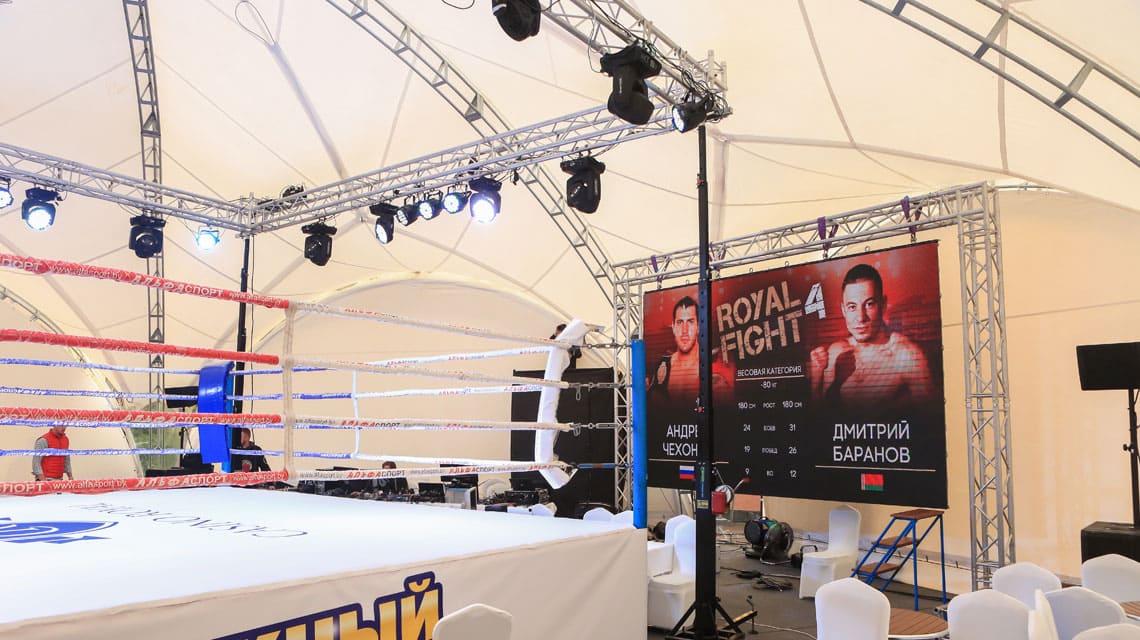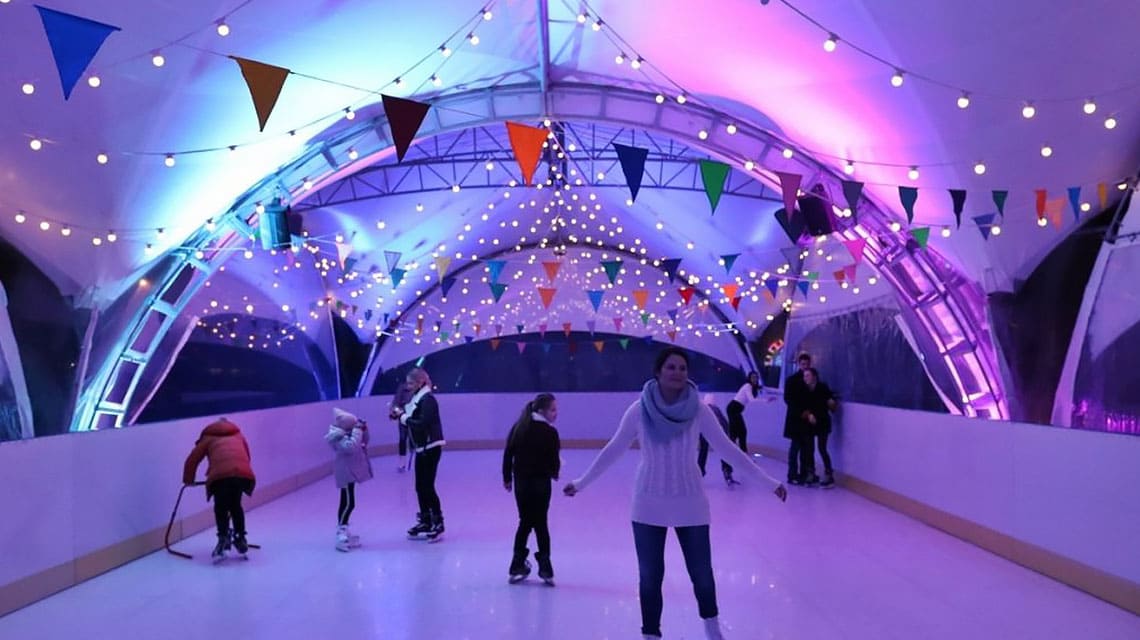 Ice or roller rink. Karting
Using framework and tent hangars by LUXTENT, you can build a roofed ice arena not just in a stationary building, but also on nearly any surface or landscape. Durable, reliable and safe tent materials make it possible to assemble spacious rinks with poured flooring for ice or roller arenas. Due to modern systems of conditioning and maintaining the required temperature level, it is possible to implement the project of a pavilion hangar for ice rink that would be operated throughout the year.
Trainings, accommodation of athletes and organization of competitions in stylish pavilions will be comfortable and worthy of the highest international level.
Hangar tent for tennis court
Playing tennis is not only a professional sport, but also a way to keep fit for numerous people. However, it is impossible to play tennis in open areas all year round – bad weather interferes. The solution was to build indoor tennis courts. Such courts are used not only by professionals, but also by amateurs, and the holding of major tournaments at such sites has long become customary.
High quality tennis court sport tent
A frame-tent structure can be an excellent place to create a tennis court. This will allow you to create a playground as soon as possible and eliminate unnecessary costs, because the high price for the construction of a tennis court often does not allow all ideas to be realized.
The spacious awning design allows you to plan the space the way you see fit. The tent tennis court is complemented by heating and air conditioning systems, which allows it to be used at any time of the year. The structure can be supplemented with other important comfort elements, including convenient changing rooms and restrooms, as well as creating the necessary lighting. The structure is easily scalable – if necessary, the sports hangar can accommodate not one, but several courts at once.
Our experts will develop for you a turnkey individual tennis court solution that will meet all quality, safety and comfort standards.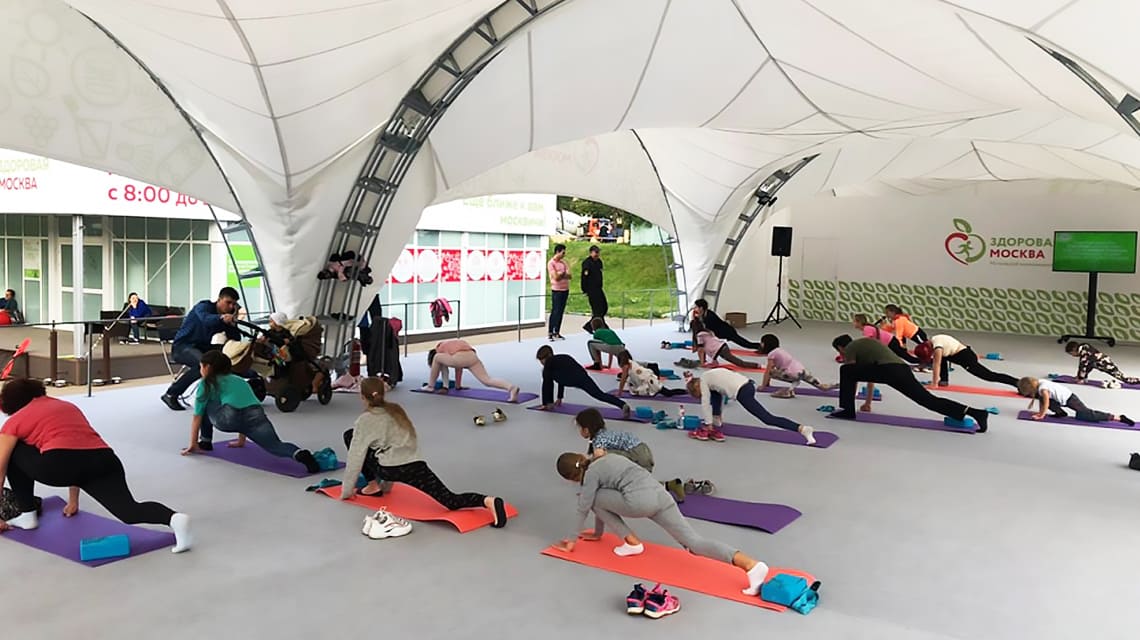 Gymnastics. Yoga. Pilates
Framework tents are suitable for group and individual sports activities in any weather. Gymnastics, yoga, pilates and other activities in spacious pavilions can be available to any numbers of visitors, while the pavilion can be installed in any location chosen by the organizers, from a sand beach to a building roof. Durable materials, high speed of erection and stylish appearance make LUXTENT pavilions the best option for modern sports schools and studios.
Tribune awnings
For any sporting event, concert or festival, the most important thing is the audience. Event organizers first of all try to take care of their comfortable placement, and if a match or concert is held outdoors, it is very important to take care of the stadium stands to be sheltered from rain, wind or the scorching sun. For this purpose, a stadium canopy can be used, which is easy to install and allows for convenience for all visitors. The main advantage is that the design can be created according to an individual order, which means there are practically no restrictions. This stand canopy can be used even in very large stadiums and is made in any color.
Today, tent structures are actively used to improve the convenience of sports arenas, including at the largest events. A canopy for the stadium stands is a solution that will help create ideal conditions for spectators at any time of the year and ensure a full house at your event.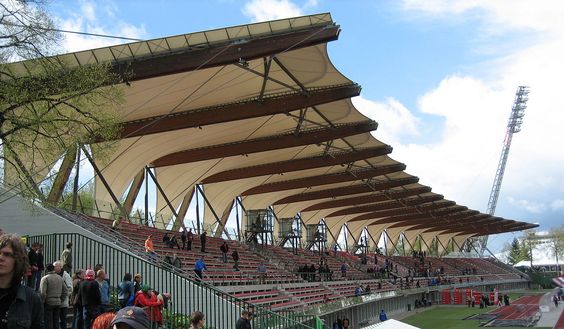 Football arena
In winter, when there is no opportunity to hold football matches in open stadiums, the only solution is an indoor football pitch. The arena allows you to play matches at any time of the year with good lighting and high-quality pitch. Today, such facilities host not only trainings, but also full-fledged competitions, and the level of development of the football infrastructure in the country is determined by the number of such "boxes".
A frame-tent structure without intermediate supports is perfect for creating a platform. In this case, the construction of a football arena will not take much time and will save money. In addition to the field itself, it is easy to install stands and locker rooms in the tent structure, create comfortable lighting and heating, so the construction of an indoor football arena today is also great news for fans, many of whom are forced to refuse to attend matches of their favorite team due to bad weather.
In addition to football fields, the use of which is mainly seasonal, it is also possible to organize the construction of a mini football field for year-round use. For this, the structure is complemented by a floor covering, and room temperature control is ensured by installing climate control systems.
The construction of an arena is the optimal solution to the problem of seasonality for many sports.
LUXTENT is the expert of sports tent
We offer sport tent including designing, producing, marketing and offering the turnkey solution. Support of healthy lifestyle of population and development of high achievements in sports are the main directions of activities of specialized organizations on local and state levels in the USA. Construction of roofed sports pavilions for sale that are convenient and available in any weather is an important step towards achievement of these goals.
LUXTENT offers modern framework and tent hangars for sports-related purposes for sale:
Ice and roller rinks;
Tennis and badminton courts;
Tents for gymnastics, yoga and pilates;
Indoor soccer, volleyball, basketball and other sports;
Roofed pools.
Best indoor sports construction company
Construction of sports hangars makes it possible to expand training potential of sports schools, as well as organize trainings, gatherings and competitions on local and international levels, increase the prestige of institutions and attract new students.
Quick-assembly sport pavilions and hangars can fulfill many purposes; you can place sites for any types of sports inside them, brand separate zones additionally, equip them with ventilation and conditioning systems, add tribune zones and even combine them with capital construction objects.
Modern tents for sporting events presented by LUXTENT will help you create a space for comfortable accommodation of athletes, storage of sports inventory, organization of award ceremonies and conduction of any sports events at the highest level.
All spheres of application
We have taken parts in hundreds of events and celebrations. Take a look at our portfolio and review the range of tents to select a perfect, safe and reliable solution for your important event or your business.

Years of experience in cooperation with various restaurant business companies allow us to find the best solutions for the most unusual and exclusive orders. Therefore, we will find the best option for you or design an individual tent conforming to your requirements.

Our tents are multi-purpose; they are made to blend with the landscape, fit into any architectural forms and at the same time perform important functions.

We pay great attention to wishes and features of orders from our customers and, therefore, are glad to solve even the most complex tasks, providing any production enterprises with the necessary and functional awnings.

We try to make our awnings not just functional, but also comfortable. Therefore, we offer unique solutions for creation of comfortable and convenient spaces for sports activities.

Our tents are characterized by durability and versatility as well as quality design. It makes them more than just functional premises and will help complement the site with a beautiful architectural solution.