Modern summer houses
LUXTENT
Turnkey summer house design
The LUXTENT company are professionals in the design and sale of modern summer houses on a wooden frame with an awning covering. We not only provide you with exquisite architectural solutions, but also take full responsibility for turning your projects into reality. We offer turnkey summer houses, starting with concept and design, then moving on to construction and installation, and finally providing full service after the project is completed. This allows you to enjoy your new summer home without any hassle.
Construction of summer houses in the USA
Our summer houses provide a variety of spaces, ranging from 36 to 100 square meters, to suit a wide range of customer needs and preferences. This means you always have the freedom to create the perfect space for your family or business.
Modern summer houses in LOFT style
Modern LOFT style summer houses are a unique combination of comfort and modern design that brings a unique atmosphere to your outdoor life. These summer houses are inspired by urban aesthetics and the internal freedom of the LOFT style. They combine spacious open spaces with a minimalist and stylish design.
Wooden frame summerhouses contribute to the creation of a natural and tranquil environment. They fit perfectly into the natural landscape and provide closeness to nature, making your holiday more enjoyable and relaxing.
Fast turnkey construction
Timber frame summer houses can be built very quickly due to the simplicity and efficiency of this construction method. This allows you to enjoy your holiday in the near future, without unnecessary delays.
Versatility and adaptability
Our summerhouses can be customized to suit your needs. You can create a cozy place for relaxation, kitchen, living room or even bedroom. This makes them an ideal choice for a variety of purposes, from family picnics to weekend getaways.
Summer tent houses from LUXTENT will decorate your private area. Their modern design with a durable wooden frame will not only attract attention, but will also amaze with its uniqueness.
Models of wooden cabin with awning covering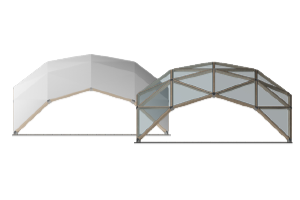 The summer house of the EcoChalet model in the LOFT style is the perfect combination of environmental friendliness and modern design. This lodge is designed with sustainability in mind and minimizing its environmental impact.
EcoChalet is a creative solution for lovers of modern LOFT style and concern for nature. Its design uses modern materials such as laminated timber and canvas covering, giving it an industrial character and warmth at the same time.
EcoChalet's interior space is designed in a minimalist style, with large windows and open layouts, creating a feeling of spaciousness and freedom. You can use it as a cozy place for rest and relaxation, as well as an ideal space for organizing various events and outdoor parties.
Order a turnkey summer house project
Additions to summer houses
We offer various glazing options for your summer house at your choice: frameless, double or single glazed windows and sliding doors. This will create a cozy, protected space to enjoy nature all year round.
We create unique summer houses for your dacha with the possibility of branding. Using various types of printing and large format banners, we will help highlight your company and create special photo areas at your event.
By contacting the LUXTENT company, you will receive services for decorating summer houses. Our team of professional decorators will help you create a unique and stylish look for your summer house that reflects your personality and suits your preferences.
We have taken parts in hundreds of events and celebrations. Take a look at our portfolio and review the range of tents to select a perfect, safe and reliable solution for your important event or your business.

Years of experience in cooperation with various restaurant business companies allow us to find the best solutions for the most unusual and exclusive orders. Therefore, we will find the best option for you or design an individual tent conforming to your requirements.

Our tents are multi-purpose; they are made to blend with the landscape, fit into any architectural forms and at the same time perform important functions.

We try to make our awnings not just functional, but also comfortable. Therefore, we offer unique solutions for creation of comfortable and convenient spaces for sports activities.

Our tents are characterized by durability and versatility as well as quality design. It makes them more than just functional premises and will help complement the site with a beautiful architectural solution.