Corporate event tents
LUXTENT
For the working team to have excellent summer leisure, you need just find an ecologically clean place near the city center, choose the exquisite and tasty dishes, consider the holiday program and set up a tent for a corporate event.
Corporate event marquees for sale
Holding a corporate event in tents instead of a stuffy restaurant is the smartest decision that will be best for the whole team. Here you can not only enjoy the unspoiled nature, fresh air and clean river, but spend time with colleagues in an informal setting or playing on the sports ground.
LUXTENT provides large tents for corporate events. Our awnings can be used for any corporate event in the US.
Corporate events marquees can be combined, docked, and cover over 1,500 m2. More than 1000 people can be accommodated under our awnings at one time. Buying a tent for a corporate event is an opportunity to organize outdoor recreation or in a non-standard place. This design can be installed almost anywhere.
Benefits of corporate tents
First, arched tents protect from the weather. Depending on the chosen fabric, they can protect from rain, sun and wind. This guarantees comfortable conditions for the event, regardless of the weather.
Secondly, an awning structures for a business party can be installed on almost any surface. In addition, small structures do not require complex installation, which allows them to be quickly installed at the event venue.
Thirdly, our tents have a large interior space, which allows you to place many guests and tables inside. Thus, they are ideal for corporate parties and other events where numerous people need to be accommodated.
Finally, luxury tents can be decorated and decorated to your liking. You can install tables and chairs inside, decorate them with flowers and other decorative elements. This allows you to create a cozy and friendly atmosphere that will contribute to the good mood of the guests.
Due to our outstanding reputation and extensive selection of models, our clients consistently return to engage our services. We are dedicated to ensuring the vibrancy and memorability of your corporate event.
Functional tents for organizing all kinds of events. LUXTENT corporate event marquees will be an excellent venue for your corporate event. To prove this, we present our portfolio.
Popular models of tents for corporate events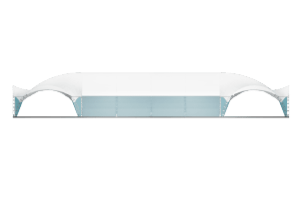 Grand is the basic model of LUXTENT arched marquees structures. The ArcoTenso Grand model is suitable for corporate events of all types as a separate tent or as a whole structure, with a maximum area of up to 1,500 m2.
Large tents for corporate parties will be a great opportunity to organize a comfortable outdoor pastime for many people, as well as to hold an event of a non-standard format: after all, even the largest LUXTENT tent can be installed almost anywhere.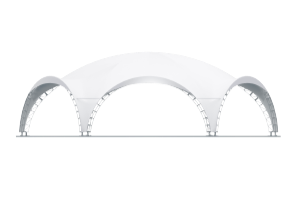 Arched tents are the perfect solution for outdoor corporate events. They are a structure of metal arcs, which are interconnected and covered with a strong awning fabric. These marquees have a number of advantages that make them the ideal choice for organizing outdoor events.
Hexagonal is suitable for events for 200-250 people. It has a dome structure with 6 bases with an area of up to 360 m2.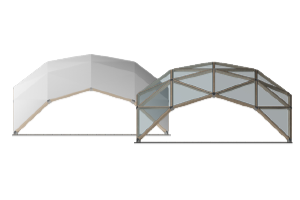 If you want to organize a corporate event in nature or in an eco-style, consider using the EcoChalet model. A wooden frame tent for a corporate event made from laminated veneer lumber will look great in such an environment.
Using wooden framed awnings for outdoor corporate events is a great choice. They provide a comfortable environment for events regardless of weather conditions, are easy to install and shoot, and also have a large interior space and decorative potential.
Get an offer for corporate event
Add-ons for corporate tents
Corporate tents can be glazed with transparent panels that provide protection from the elements while maintaining visibility and natural light. The choice of glazing material depends on the prevailing weather conditions.
To create a professional and inviting ambiance that reflects the company's style, corporate tents can be decorated with textiles, flowers, color schemes, and other decorative elements.
Branding corporate tents involves using logos, images, and monograms to add uniqueness and individuality to the tent, highlighting the company's personality and creating a recognizable image. Branding elements can also be used in other corporate event elements such as souvenirs, menus, invitations, and more.
We have taken parts in hundreds of events and celebrations. Take a look at our portfolio and review the range of tents to select a perfect, safe and reliable solution for your important event or your business.

Years of experience in cooperation with various restaurant business companies allow us to find the best solutions for the most unusual and exclusive orders. Therefore, we will find the best option for you or design an individual tent conforming to your requirements.

Our tents are multi-purpose; they are made to blend with the landscape, fit into any architectural forms and at the same time perform important functions.

We try to make our awnings not just functional, but also comfortable. Therefore, we offer unique solutions for creation of comfortable and convenient spaces for sports activities.

Our tents are characterized by durability and versatility as well as quality design. It makes them more than just functional premises and will help complement the site with a beautiful architectural solution.