Canopy for dining area
LUXTENT
Amazing outdoor patio canopy
Seasonal summer terraces are a beloved destination for patrons of cafes and restaurants on hot days.
Every restaurant strives to create the optimal environment for guests, and this includes the installation of alfresco dining shelters. These charming outdoor dining areas capture the attention of new visitors and become their preferred spot to relax while savoring the pleasant weather and delectable cuisine.
Awnings for outdoor dining area
LUXTENT offers the construction of alfresco dining shelters for cafes in the USA using tent structures. Blending contemporary design and cutting-edge awning technology, we craft distinctive curved structures that enable us to accommodate guests throughout the warm season. Our tents for alfresco dining shelters can be placed on a variety of surfaces, whether it's a building's rooftop, street, or waterfront location. Our experienced engineers and designers can tailor a summer terrace project to suit your establishment's unique needs. Additionally, all terrace models can be customized in size, combined with one another, or divided into two standalone structures.
Even in a limited space, you can successfully realize various business concepts and maintain a comfortable atmosphere within the establishment.
Canopies for outdoor terraces at cafés and restaurants
LUXTENT offers exceptional outdoor patio canopies for cafes and covered outdoor dining areas for restaurants. Our summer terraces and verandas are known for their long service life, featuring a sturdy frame made from galvanized aluminum or laminated timber, in addition to stainless steel components. These structures are designed to provide both durability and style, ensuring a long-lasting and attractive solution for your outdoor dining needs.
By contacting LUXTENT, you can buy a summer terrace at a good price, and you are guaranteed to receive the best service in the USA. To prove these words, we present a portfolio of our work and possible options for using our structures for summer terraces.
Popular models of tent awnings for terrace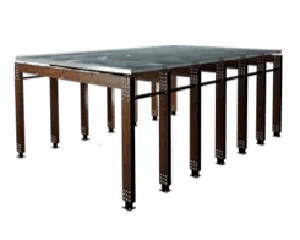 Café proprietors can greatly enhance their offerings by considering the installation of outdoor dining canopies. These canopies should be meticulously planned to align with the café's aesthetic while providing ample seating and ambiance for patrons to enjoy.
The EcoPergola tent structure with a wooden frame is an ideal choice for an outdoor dining canopy, effectively increasing seating capacity.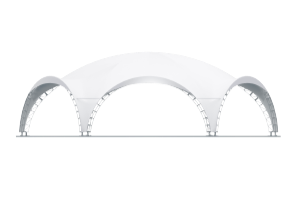 The ArcoTenso model of arched tents enables the swift setup of outdoor patio canopies and can be installed on various surfaces. This versatile tent structure can be seamlessly combined with other units to create expansive outdoor dining spaces.
The innovative design of these marquees elevates your café's outdoor dining experience, fostering a relaxed and welcoming atmosphere in this outdoor oasis. Membrane structures from the Membrane range offer a cost-effective solution for establishing a cozy outdoor dining area with maximum impact. These designs require no permitting and can be installed within a matter of days, allowing you to expand your café or restaurant's seating capacity with ease.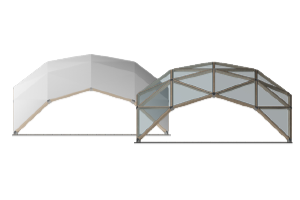 Creating a café terrace is an exciting project that necessitates careful consideration of space and purpose. The size and layout of the terrace should align with its intended function.
For those aiming to establish a welcoming outdoor dining space in an eco-friendly style, the EcoChalet model of wooden tents is a superb choice. These tent structures can be affixed to the building, ensuring stability in all weather conditions and creating a cozy summer veranda for your café.
Order a design for outdoor dining area
Add-ons for summer terraces
Transform your cafe's summer terrace with our seamless glazing solutions. Whether you prefer frameless glazing, double or single-layer glass units, or sliding and swinging doors, we offer a wide range of options to perfectly suit your needs. Enhance the aesthetic appeal of your outdoor space while providing protection from the elements. Experience the versatility and elegance of our pavilion glazing options for your cafe's terrace.
Elevate your cafe's summer terrace with our tent branding services. With our expertise in printing on various parts of the pavilion and utilizing wide-format banner printing, you can effectively showcase your company's name and create captivating photo zones on your terrace. Maximize brand visibility and create a memorable ambiance for your customers with our tailored branding solutions for cafe terraces.
Enhance the charm of your cafe's summer terrace with our decoration services. Customize your terrace decor according to your preferences, with options including embellishing the dome and walls with exquisite designer fabrics and creating a delightful ambiance both inside and outside the pavilion using a combination of live and artificial plants. Let us transform your cafe's terrace into a visually stunning and inviting space that will captivate your customers and create a memorable dining experience.
We have taken parts in hundreds of events and celebrations. Take a look at our portfolio and review the range of tents to select a perfect, safe and reliable solution for your important event or your business.

Years of experience in cooperation with various restaurant business companies allow us to find the best solutions for the most unusual and exclusive orders. Therefore, we will find the best option for you or design an individual tent conforming to your requirements.

Our tents are multi-purpose; they are made to blend with the landscape, fit into any architectural forms and at the same time perform important functions.

We try to make our awnings not just functional, but also comfortable. Therefore, we offer unique solutions for creation of comfortable and convenient spaces for sports activities.

Our tents are characterized by durability and versatility as well as quality design. It makes them more than just functional premises and will help complement the site with a beautiful architectural solution.