Luxury wedding party tents
A wedding tent is the perfect place to celebrate such an event outdoor, surrounded by nature. The tent will provide guests with comfortable conditions in any weather.
Outdoor wedding event tents
Tents for wedding are suitable for small celebrations for 10-15 people, as well as for large-scale weddings with an unlimited number of guests.
Wedding tents allow you to organize various areas: a banquet hall, a dance floor, a photo zone and more.
The wedding party tent is specially decorated to highlight the significance of the event.
Beautiful tents for weddings are decorated with snow-white fabric.
You can choose natural flowers to decorate the hall.
Choose different lighting options.
Luxury tents are generally used to arrange the wedding hall. We are ready to offer our clients a huge selection of wedding marquees of various shapes and sizes.
Wedding tents for sale in the USA
Wedding tents are resistant to all weather conditions, and they can also be used not only during the warmer months. Thanks to the heating systems, the outdoor wedding tents can become year-round.
Wedding in a marquee: advantages over cafés and restaurants
park lawn, glades, sea sand, yacht deck and special pontoon can be installed on any level surface
aesthetic and attractive appearance
reasonable prices
area can be additionally expanded
Your holiday will be perfect and will definitely be remembered not only by you, but by the guests as well!
Discover the allure of beautiful tents for weddings with LUXTENT. Capture the essence of your special day in stunning photographs, showcasing the fashion luxury wedding tent that enhances the beauty of your wedding celebration.
Popular wedding tent models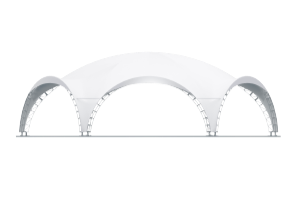 Arched wedding marquees, known for their classic elegance, are a versatile option for outdoor marriage celebrations.
Luxurious outdoor wedding tents, particularly the stylish arched variants, have gained significant popularity, making them an ideal choice for wedding celebrations.
These large wedding tents, characterized by graceful arches, are a trending option for outdoor weddings. Their unmatched visual appeal adds a touch of sophistication and glamour to the wedding venue, creating a stunning atmosphere that serves as a perfect backdrop for a memorable wedding party.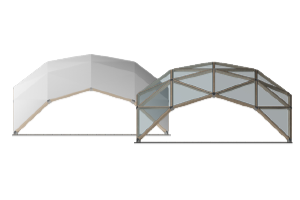 The EcoChalet wedding awnings structures, along with the exquisite natural surroundings, provide a unique and charming atmosphere for your special day. Adding a touch of elegance, consider incorporating a tent for the wedding to enhance the overall experience, creating a cozy and intimate space for you and your guests to celebrate this joyous occasion.
Explore the eco-friendly appeal of the EcoChalet model for a nature-inspired and modern wedding tent option. This unique style, drawing inspiration from Alpine motives, is gaining global popularity. The domed structure made of laminated veneer lumber not only aligns with eco-style preferences and natural materials but also provides a fresh and trendy aesthetic for modern wedding tents.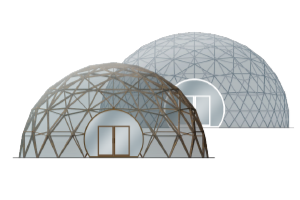 Discover the perfect venue for your wedding within our expansive domed tents. For a truly unique and unforgettable wedding experience, look no further than the GeoTenso domes. These spacious structures provide an ideal setting for a wedding banquet hall, ensuring a memorable and elegant atmosphere for your special day, including the installation of enchanting wedding dome tents.
Improve your wedding event with our distinctive spherical tents. For such designs, a transparent tent fabric is most often used, which effect is incredible.
Order luxury tent for wedding party
Glazing wedding tents involves installing transparent panels for protection from the weather while allowing visibility and natural light. Different types of glazing can be used depending on weather conditions.
Branding wedding tents involves adding uniqueness and individuality through branding elements such as logos, monograms, and photos of the couple, creating a recognizable image of the wedding that emphasizes its personality. Branding can be used not only on wedding tents but also on other wedding decor elements such as invitations, menus, souvenirs, and much more.
Decorating wedding tents involves designing and embellishing the tent with color schemes, textiles, flowers, and other decorative elements to create a cozy and romantic atmosphere that reflects the couple's style.
Feedback from our clients
We have taken parts in hundreds of events and celebrations. Take a look at our portfolio and review the range of tents to select a perfect, safe and reliable solution for your important event or your business.

Years of experience in cooperation with various restaurant business companies allow us to find the best solutions for the most unusual and exclusive orders. Therefore, we will find the best option for you or design an individual tent conforming to your requirements.

Our tents are multi-purpose; they are made to blend with the landscape, fit into any architectural forms and at the same time perform important functions.

We try to make our awnings not just functional, but also comfortable. Therefore, we offer unique solutions for creation of comfortable and convenient spaces for sports activities.

Our tents are characterized by durability and versatility as well as quality design. It makes them more than just functional premises and will help complement the site with a beautiful architectural solution.