Nightclub tent structures
LUXTENT
Night and dance clubs in tents
The utilization of tent structures in the entertainment industry has become a prominent trend in recent years. Nightclub tent structures are a game-changer, offering remarkable advantages for the nightlife scene. These tents are significantly lighter than traditional capital structures, making them suitable for installation on diverse surfaces. In the United States, tented nightclubs and dance floors have gained popularity, providing a unique setting for night owls to enjoy seaside entertainment long after the sun sets.
Cutting-Edge Nightclub Tent Structures in US
One of the primary attractions of these structures is the substantial cost savings they offer compared to permanent building construction. Unlike conventional buildings, a nightclub within a tent can be assembled and disassembled as needed. This flexibility allows for winter disassembly and summer reinstallation, optimizing the use of the space.
Experience the Modern Nightclub Tent
Transform your nightclub experience with LUXTENT's state-of-the-art wall tents, redefining the concept of nightlife with their striking and contemporary design:
The distinctive round shape of our tents serves as a perfect focal point for a dynamic dance floor, creating an immersive and energetic atmosphere that captivates club-goers.
Our tent structures offer unparalleled versatility, allowing for easy modifications, such as dividing or connecting with additional awnings. This adaptability empowers you to expand your nightclub area, accommodating larger crowds when the occasion calls for it.
The visual appeal of our tents is already captivating in their classic white form, but it can be further enhanced with exterior and interior lighting effects. This transforms the ambiance into a captivating experience that leaves a lasting impression on your guests.
Immerse yourself in the exhilarating experience of a modern nightclub tent in the USA, where innovative design and an unforgettable atmosphere combine to create an extraordinary nightlife adventure.
Our arched tent model provides an exclusive solution for nightclub owners. The result is an outstanding complex of tents with versatile lighting options, ensuring a memorable experience for young patrons. Spacious halls, great music, luxurious interior, and delectable drinks will transform your nightclub into a hub of freedom and fun, making it a place where people love to be!
Hosting a nightclub in LUXTENT tents will not only attract new guests to your club but also provide a one-of-a-kind space for relaxation and entertainment.
Design models for nightclubs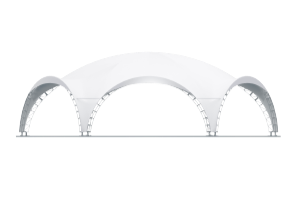 Arched tents are perfect as awnings for nightclubs and dance floors. A feature of the ArcoTenso model allows you to scale the tent for specific events, which will allow you to simultaneously accommodate even more guests!
Arched tents offer a unique and eye-catching design. The arched shape creates an open and inviting atmosphere, which is ideal for a nightclub. Moreover, they can be easily customized with features like soundproofing, climate control, and lighting, providing a seamless experience for club-goers.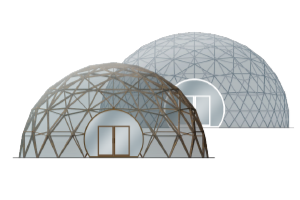 GeoTenso's design will draw attention to your nightclub with a transparent dome and interior lighting. A large space will allow you to equip a tent, place lighting and sound equipment in it.
Dome tents offer a more modern and futuristic look. The distinctive dome shape creates an unusual and visually striking appearance that is sure to attract attention. Dome tents are highly durable and resistant to harsh weather conditions, making them an ideal choice for outdoor nightclubs.
Order a construction project for a nightclub
Add-ons for nightclub tent
Turn your selected tent into the perfect nightclub setting with ease. Our range of pavilion glazing solutions includes frameless glazing, double or single-layer glass units, and an array of sliding or swinging doors. Create a truly customizable and adaptable space for nightclubs to thrive and entertain their patrons.
Elevate your nightclub tents with our tent branding services. Through a combination of precision printing on various sections of the pavilion and wide-format banner printing, you can captivate attention with your company's name or craft one-of-a-kind photo zones at your event.
In LUXTENT, you can order decoration services that will include (based on your wishes): embellishment of the dome and walls with designer fabrics and arrangement of the space inside and outside the pavilion using live and artificial plants.
We have taken parts in hundreds of events and celebrations. Take a look at our portfolio and review the range of tents to select a perfect, safe and reliable solution for your important event or your business.

Years of experience in cooperation with various restaurant business companies allow us to find the best solutions for the most unusual and exclusive orders. Therefore, we will find the best option for you or design an individual tent conforming to your requirements.

Our tents are multi-purpose; they are made to blend with the landscape, fit into any architectural forms and at the same time perform important functions.

We try to make our awnings not just functional, but also comfortable. Therefore, we offer unique solutions for creation of comfortable and convenient spaces for sports activities.

Our tents are characterized by durability and versatility as well as quality design. It makes them more than just functional premises and will help complement the site with a beautiful architectural solution.