Pool canopies and awnings
LUXTENT
Luxury pool canopy and awning
An open-air swimming pool for the private sector is an excellent escape on hot summer days, and in some cases, an item of status and luxury.
Swimming pool awnings
Like any element of infrastructure, a swimming pool requires care and attention, and it's not just about its maintenance and water purification, but about arranging the surrounding area and creating a canopy that will turn the outdoor pool into a place of relaxation.
Our pool canopy and pool awnings will perfectly cope with this task, while the solution is suitable for both private clients and large swimming pools in hotels and recreation centers.
Arched canopies are designed to cover swimming pools of any size. The tent structure will allow you to create not only an awning over the pool, which will protect it from foreign objects, but will create a comfortable recreation area around the pool, protecting it from the sun and wind.
Pool canopies in the USA are made on a frame made of galvanized steel, with an awning covering of any color and level of transparency. Such awnings can be rectangular, ellipsoidal or spherical.
Advantages of swimming pool canopies
Protection from inclement weather: Tent shelters provide reliable protection against rain, snow, strong winds, and direct sunlight, extending the usability of the pool.
Comfortable atmosphere: Pool canopy create a shaded area, shielding from intense sunlight and providing a pleasant environment for relaxation by the pool.
Extended pool season: Tent canopies protect the pool from debris, making maintenance easier, and help retain the water's warmth, allowing for pool usage during cooler seasons.
Flexibility and versatility: Pool awning come in various sizes, shapes, and colors, offering options that suit different pool designs, and they are easy to assemble and disassemble.
UV protection: Tent materials are often treated to shield against harmful UV rays, safeguarding the health of individuals using the pool.
The model range of LUXTENT outdoor sun awnings for swimming pool includes many luxuries constructions. You can see options for using pool covers in our photo gallery.
Popular models of tents for swimming pools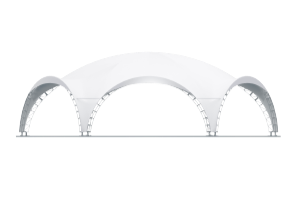 ArcoTenso offers versatile tent structures that can be used to create a covered arched canopy specifically designed for frame pools. Pool awnings are increasingly gaining popularity among owners of framed pools. They provide additional sun and weather protection, are easy to install, and are available in various colors to seamlessly integrate with any backyard decor. Moreover, canopy for pool serve as an excellent means of creating extra shaded areas around the pool, offering more comfortable seating options for guests. Tensile pool canopy models enables the creation of custom shade solutions for pool and deck, regardless of their shape, size, or color. These structures, often seen as pool awnings, are a popular architectural feature in residential landscapes.
Once installed, the pool deck awnings offer excellent sun protection, ensuring the comfort and peace of mind of all pool users. For those seeking a pool cover, it is advisable to opt for a customized solution that perfectly fits the dimensions of the pool.
Order a canopy project for swimming pool
Add-ons for canopy for swimming pool
The tent of your choice can be easily glazed. Frameless glazing, double or single-layer glass units, sliding or swinging doors – we offer various options of pavilion glazing.
We offer services in the field of tent branding. By printing on different parts of the pavilion and using wide-format banner printing, you can draw attention to the name of your company or create unique photo zones at your event.
In LUXTENT, you can order decoration services that will include (based on your wishes): embellishment of the dome and walls with designer fabrics and arrangement of the space inside and outside the pavilion using live and artificial plants.
We have taken parts in hundreds of events and celebrations. Take a look at our portfolio and review the range of tents to select a perfect, safe and reliable solution for your important event or your business.

Years of experience in cooperation with various restaurant business companies allow us to find the best solutions for the most unusual and exclusive orders. Therefore, we will find the best option for you or design an individual tent conforming to your requirements.

Our tents are multi-purpose; they are made to blend with the landscape, fit into any architectural forms and at the same time perform important functions.

We try to make our awnings not just functional, but also comfortable. Therefore, we offer unique solutions for creation of comfortable and convenient spaces for sports activities.

Our tents are characterized by durability and versatility as well as quality design. It makes them more than just functional premises and will help complement the site with a beautiful architectural solution.