LUXTENT tents for fairs,
trade pavilions and markets
The awning pavilion is a quick-assembly structure based on an steel or wooden frame, over which the awning fabric is tightly stretched.
LUXTENT company tent trade pavilions for organizing retail and wholesale points on the streets and avenues of the city, fairs, and festivals in the USA.
We are engaged in the manufacture of high quality arched pavilions capable of simultaneously accommodating hundreds of guests.
Tent pavilions market for sale in USA
The model range includes various designs for creating an awning pavilion:
By contacting our company with a request, you will receive exactly the pavilion that will best allow you to present your products, and thanks to the elements of the branding of the structure, your tent for trade will be noticeably different from the others.
The tent pavilion can be an outdoor or indoor tent for retail or wholesale. Buying a tent for trade is the best solution if your company wants to present its products at major fairs and festivals.
Our company is engaged in the creation of a variety of tents that can be used for trade. We try to take into account all the wishes of our clients in order to help them achieve their goals.
Features of our company
Quite a lot of experience in the design and implementation of tents for fairs. Employees often equip designs that are used at weekend fairs in many cities around the world.
Extensive range of options available. Thanks to this, each client has the opportunity to choose the right option that is optimal for a particular case.
Product testing, which is a guarantee of high quality.
We are open for cooperation with both private and legal entities.
Qualified support from our specialists, which allows you to organize the trading process competently.
Individual approach to each client.
Buying a LUXTENT tent pavilion for trade is a guarantee of successful representation of the company at any festivals or fairs. To prove these words, we present a portfolio of our work and possible options for using structures.
Trade Pavilions – options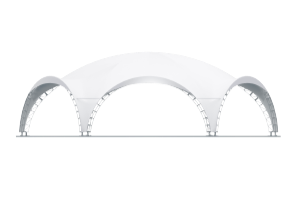 Commercial wall tents based on the ArcoTenso design are ideal for trade fairs and festivals of all sizes. Due to the design features, the tents can be docked into one large shopping pavilion.
ArcoTenso is the main model of LUXTENT awning structure. This model is suitable for all types of pavilions, they can go both as separate outlets and as a single whole structure up to 1500 m2.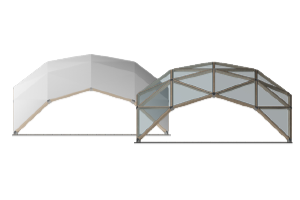 To draw maximum attention to its retail outlet, LUXTENT has developed a timber-framed EcoChalet. The pavilion on a frame made of laminated veneer lumber will look great at any street fair.
Tent pavilions have come to the rescue of street fairs and festivals around the world. We offer trade pavilions on a wooden frame, providing protection from heat and rain. Large wooden pavilions for trade are designed for various outdoor events.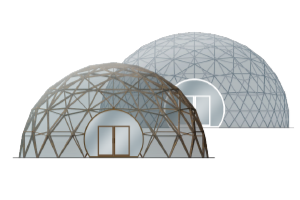 The GeoTenso dome tent can become the centerpiece of any city festival! Under the arches of the structure, you can place a point of sale or make a tent as an entrance gate to the festival.
In addition, the stability of the dome structure provides reliable protection from the elements, regardless of weather conditions, giving your event a sense of organization and permanence. With a versatile large tent pavilion, you can hold events without worrying about the harshest summer or winter conditions.
Get an offer for trading pavilions for fair
The tent of your choice can be easily glazed. Frameless glazing, double or single-layer glass units, sliding or swinging doors – we offer various options of pavilion glazing.
We offer services in the field of tent branding. By printing on different parts of the pavilion and using wide-format banner printing, you can draw attention to the name of your company or create unique photo zones at your event.
In LUXTENT, you can order decoration services that will include (based on your wishes): embellishment of the dome and walls with designer fabrics and arrangement of the space inside and outside the pavilion using live and artificial plants.
We have taken parts in hundreds of events and celebrations. Take a look at our portfolio and review the range of tents to select a perfect, safe and reliable solution for your important event or your business.

Years of experience in cooperation with various restaurant business companies allow us to find the best solutions for the most unusual and exclusive orders. Therefore, we will find the best option for you or design an individual tent conforming to your requirements.

Our tents are multi-purpose; they are made to blend with the landscape, fit into any architectural forms and at the same time perform important functions.

We try to make our awnings not just functional, but also comfortable. Therefore, we offer unique solutions for creation of comfortable and convenient spaces for sports activities.

Our tents are characterized by durability and versatility as well as quality design. It makes them more than just functional premises and will help complement the site with a beautiful architectural solution.