Turnkey restaurant
LUXTENT
Turnkey restaurant business
Creating a thriving restaurant or café business is about more than just delectable cuisine and attentive staff; it's also about crafting an inviting atmosphere. When it comes to launching your eatery, every detail matters. Whether it's a cozy café or an upscale restaurant, the appeal of your establishment is crucial. An essential phase in restaurant construction is the thoughtful design of both its exterior and interior.
Turnkey restaurant and café Construction
At LUXTENT, we specialize in providing comprehensive turnkey solutions for restaurant and café construction in the United States. Our innovative approach to creating inviting dining spaces sets us apart. Our expertise extends to utilizing tent structures, offering a unique and cost-effective design concept. Despite their apparent simplicity, these tents present an opportunity to establish fully functional restaurants with minimal financial investment. Their versatility allows for easy expansion or division into multiple zones, providing scalability to meet your specific requirements.
Turnkey restaurant solutions in USA
When you choose LUXTENT for turnkey restaurant and café construction in the USA, you gain access to a dedicated team of specialists. We meticulously plan every detail to ensure the optimal operation and functionality of your establishment. From selecting high-quality flooring materials suitable for restaurant environments to incorporating glazing elements that enhance natural light and views, we leave no stone unturned. Our experts design efficient heating and ventilation systems to create a comfortable dining experience. We strategically position lighting fixtures to craft an inviting atmosphere. Expect a comprehensive turnkey restaurant business delivered within the shortest possible timeframe, tailored to meet your specific requirements.
Discover LUXTENT for turnkey café and restaurant design services. We specialize in crafting custom tent structures for cafés, tailored to each project and delivered swiftly. Expect your vision to come to life efficiently.
Popular solutions for turnkey restaurant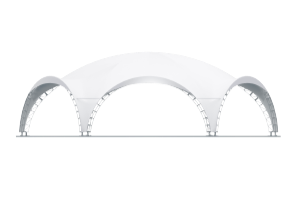 The main structures in the design of restaurants are ArcoTenso tents, which are perfectly suited as street restaurants. The tent model can be equipped with glazing and heating elements of the structure, which will allow it to be used even in winter.
Arched tents offer a unique and eye-catching design. The curved shape creates an open and inviting atmosphere, allowing for ample natural light to enter the space. The construction of arched tents is also relatively simple and cost-effective, making them an excellent choice for those on a tight budget. Additionally, arched marquees are highly customizable and can be easily adapted to suit the needs of the restaurant, such as adding extra entrances.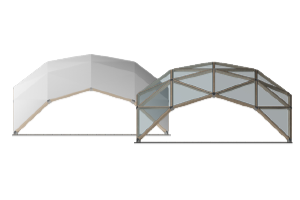 In the LUXTENT catalog, there are tents made on a wooden frame – the EcoChalet model will be the ideal solution if you want to open a restaurant in a park area. The eco-style wooden tent will be an excellent addition to the surrounding space.
Wooden tents offer a more rustic and natural look. They are perfect for those who want to create a warm and cozy atmosphere. Wooden canopies are also highly durable and resistant to harsh weather conditions. Moreover, wood tents offer excellent insulation, making them ideal for use in colder climates.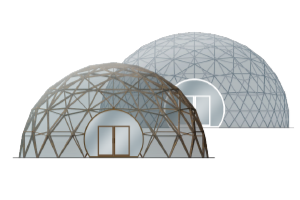 The tent in the form of a geodesic dome will perfectly fit into the urban environment and will become the centerpiece of any area. Inside the structure, GeoTenso can place the banquet hall of your restaurant. The advantage of the dome structure lies in the almost limitless possibilities of its decoration and equipment with light and sound equipment.
Dome tents are a popular choice for those who want to create a unique and modern space. The distinctive dome shape creates an unusual and visually striking appearance that is sure to attract attention. Dome tents are also highly durable and resistant to harsh weather conditions. They offer excellent ventilation, allowing for natural airflow and creating a comfortable and pleasant environment for customers.
Order a turnkey restaurant project
The tent of your choice can be easily glazed. Frameless glazing, double or single-layer glass units, sliding or swinging doors – we offer various options of pavilion glazing.
We offer services in the field of tent branding. By printing on different parts of the pavilion and using wide-format banner printing, you can draw attention to the name of your company or create unique photo zones at your event.
In LUXTENT, you can order decoration services that will include (based on your wishes): embellishment of the dome and walls with designer fabrics and arrangement of the space inside and outside the pavilion using live and artificial plants.
We have taken parts in hundreds of events and celebrations. Take a look at our portfolio and review the range of tents to select a perfect, safe and reliable solution for your important event or your business.

Years of experience in cooperation with various restaurant business companies allow us to find the best solutions for the most unusual and exclusive orders. Therefore, we will find the best option for you or design an individual tent conforming to your requirements.

Our tents are multi-purpose; they are made to blend with the landscape, fit into any architectural forms and at the same time perform important functions.

Our tents are characterized by durability and versatility as well as quality design. It makes them more than just functional premises and will help complement the site with a beautiful architectural solution.

We try to make our awnings not just functional, but also comfortable. Therefore, we offer unique solutions for creation of comfortable and convenient spaces for sports activities.