Indoor horse arenas
LUXTENT
Tent structures for equestrian arena
Equestrian sport is a noble but demanding sport at the same time. For a special, competent and comfortable keeping of horses, it is required to build the most practical and convenient horse riding arena for animals. In this case, the customer must take into account the cost of the structure being erected. To maximize the fulfillment of both requirements, opt for a turnkey frame tent horse riding arena.
One of the areas where large arched structures are used is the construction of horse arenas and arenas for equestrian sports.
covered horse riding arena
Horseback riding is one of the most beautiful, spectacular and labor-intensive sports. And also one of the most expensive, because behind the beautiful performance of the rider there is a great responsibility for the health of the horse, because it needs a sufficiently large and comfortable space for training, grooming, dressing the horse throughout the year.
Indoor horse arena, depending on the type, differ in area, shape and functionality:
Dressage and show jumping arena
Walking and training arena
Arena for other equestrian events
Breeding horses for equestrian sports requires a great responsibility from the entrepreneur and an understanding of what conditions each horse needs.
First, animals need a lot of free space, both in width and height. Since the horse is a tall animal, the structure in which it is kept must provide sufficient height and area to move.
Secondly, when building an awning arena for horses, attention must be paid to the surface on which the horse steps. The daily dressage of the horse should not be physically inconvenient for him.
Third, the design of a tent structure for keeping horses should provide for mobility, ease of use and the possibility of increasing the area.
These requirements are met by frame and tent structures. Such designs are actively used when opening equestrian clubs and schools for equestrian sports.
Indoor horse arena for sale
LUXTENT specializes in designing and constructing equestrian arenas in the USA for various purposes. Our arched structures provide the perfect solution for swiftly establishing a comprehensive platform for horse dressage, adhering to all essential standards to ensure comfortable training with horses. We prioritize the creation of conditions that prioritize the comfort and safety of horses during both living and training. Explore our riding arenas for sale in the USA and entrust LUXTENT to deliver a space that seamlessly blends functionality with the well-being of your equine companions.
Constructing sports facilities for equestrian sports demands expertise and specialized knowledge. Trust LUXTENT for this responsible task, and our awning canopies will serve as an excellent addition to your hippodrome or riding arena.
Design options for horse arenas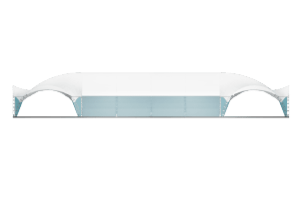 The ArcoTenso Grand tent structure has great functionality due to its unique design, which allows for making an awning with an area of several hundred square meters without intermediate supports. This design will be an excellent option as a full-fledged equestrian center. We specialize in the construction of indoor horse riding arenas, providing a tailored solution for year-round horse riding activities regardless of weather conditions.
We specialize in the construction of turnkey indoor horse arenas – we take care of everything at every stage of the project, from design and construction itself to the transfer of a ready-to-use horse rental to the customer.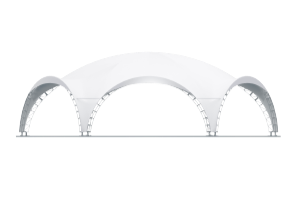 The ArcoTenso Octagonal design is a large round tent, perfect for versatile applications such as an equestrian arena or dressage ground. The dome structure is erected without intermediate supports, ensuring a vast, unobstructed space. This design of outdoor riding arena for horses offers an optimal solution for open-air equestrian activities.
With a spacious capacity of up to 590 m2, this design allows for the inclusion of all necessary facilities, making it suitable for hosting equestrian competitions of any level. Additionally, for those desiring a covered horse arena, the ArcoTenso Octagonal design provides a sheltered space to accommodate various equine events, combining functionality with a distinctive architectural form.
Inquire about the cost of a horse riding arena
Add-ons for covered horse arenas
The tent of your choice can be easily glazed. Frameless glazing, double or single-layer glass units, sliding or swinging doors – we offer various options of pavilion glazing.
We offer services in the field of tent branding. By printing on different parts of the pavilion and using wide-format banner printing, you can draw attention to the name of your company or create unique photo zones at your event.
In LUXTENT, you can order decoration services that will include (based on your wishes): embellishment of the dome and walls with designer fabrics and arrangement of the space inside and outside the pavilion using live and artificial plants.
We have taken parts in hundreds of events and celebrations. Take a look at our portfolio and review the range of tents to select a perfect, safe and reliable solution for your important event or your business.

Years of experience in cooperation with various restaurant business companies allow us to find the best solutions for the most unusual and exclusive orders. Therefore, we will find the best option for you or design an individual tent conforming to your requirements.

Our tents are multi-purpose; they are made to blend with the landscape, fit into any architectural forms and at the same time perform important functions.

We try to make our awnings not just functional, but also comfortable. Therefore, we offer unique solutions for creation of comfortable and convenient spaces for sports activities.

Our tents are characterized by durability and versatility as well as quality design. It makes them more than just functional premises and will help complement the site with a beautiful architectural solution.