Terrace canopies for high demands
A reliable and beautiful awning over the terrace is an indispensable component of interior decoration on any suburban area, and can become a distinguishing feature of any house. Despite the seeming simplicity of the structure, in practice, its attachment raises many questions. First you need to decide on the shape of the visor, select materials and carry out the necessary calculations.
Luxury canopy and awning for terrace
When building a country house in the USA, quite often the owners plan to have an open adjoining awning for terraces, where they can comfortably sit in the fresh air. An ideal addition to the adjoining terrace will be a sunshade, which will provide a cozy shade throughout the terrace area, and protect from precipitation of all types.
Unlike conventional polycarbonate entrance awnings, terrace tent awnings make the overall concept of the adjoining area lighter. If necessary, such awnings can be used to tighten the entire or part of the terrace. In addition, such awnings are easy to install and do not overload the load-bearing walls of the house.
We recommend choosing an awning over the terrace to the house, first, based on design preferences. The technical part of LUXTENT awnings is time-tested and awarded with numerous awards. We are able to produce a high-quality awning of almost any architectural form and for any area.
The advantages of terrace canopies
Terrace canopies, also known as terrace awnings or terrace covers, offer numerous advantages for outdoor spaces. Here are five key benefits of terrace canopies:
Sun Protection: Terrace canopies provide essential shade, shielding you and your outdoor furniture from harmful UV rays. They create a comfortable and cool environment, allowing you to enjoy your terrace even on hot and sunny days.
Weather Resistance: Terrace canopies offer protection against various weather elements, including rain, wind, and even light snow. They help to keep your terrace area dry and sheltered, extending its usability throughout the year.
Versatility: Terrace canopies come in a variety of styles, designs, and materials, offering endless possibilities for customization. Whether you prefer a retractable canopy for adjustable shade or a permanent structure for a defined outdoor space, terrace canopies can be tailored to suit your specific needs and aesthetic preferences.
Enhanced Outdoor Living: By adding a terrace canopy, you effectively extend your living space outdoors. It creates a cozy and inviting atmosphere, allowing you to entertain guests or relax in a comfortable outdoor setting. Terrace canopies provide a versatile area that can be used for dining, lounging, or hosting social gatherings.
Increased Property Value: Installing a well-designed and functional terrace canopy can enhance the overall value of your property. It adds a visually appealing feature to your outdoor space while providing practical benefits that potential buyers or renters will appreciate.
Investing in a terrace canopy brings a multitude of advantages, making it a wise choice for those looking to maximize the enjoyment and value of their outdoor living area.
The structure can be used as a veranda or an attached pergola providing a cozy place to relax and meet with guests. LUXTENT terrace awnings will be useful to fit your home. More details on design options can be found in our portfolio.
Popular models of awnings for terrace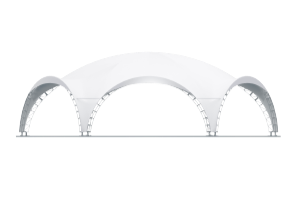 ArcoTenso is the basic model of LUXTENT company. The structure of the tents is multifunctional and is suitable as an awning for the adjoining terrace. An arched awning for the terrace will allow you to organize a cozy seating area and protect you from bad weather.
Arched tents are a practical and effective way to liven up a house terrace. Awnings not only provide protection from the sun, but also create a comfortable environment in which to enjoy a meal or a conversation during the warm summer months. Made from durable and reliable materials such as polyester fabric, arched patio awnings have a unique design. Tensile structures of the Membrane model will allow you to create a cozy canopy of any shape and for any space. Due to its versatility, such a design can be a canopy for a terrace, both classic and non-standard, futuristic.
Tension awnings are ideal for a terrace, as they can be adjusted in size, shape, orientation, and lighting; perfect for when you want to have a different look depending on the weather or even the season.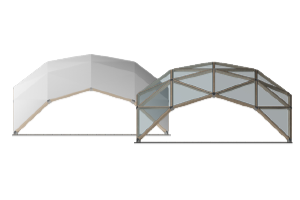 EcoChalet is a wooden framed awning structure that can be docked to the wall of the house, resulting in an amazing eco-style terrace.
If you want to organize a cozy terrace in an eco-style, consider using the EcoChalet model of wooden tents. The structure of the terrace awning can be attached to the wall of the house, which will ensure its stability in all weather conditions.
Order a canopy project for a terrace
The tent of your choice can be easily glazed. Frameless glazing, double or single-layer glass units, sliding or swinging doors – we offer various options of pavilion glazing.
We offer services in the field of tent branding. By printing on different parts of the pavilion and using wide-format banner printing, you can draw attention to the name of your company or create unique photo zones at your event.
In LUXTENT, you can order decoration services that will include (based on your wishes): embellishment of the dome and walls with designer fabrics and arrangement of the space inside and outside the pavilion using live and artificial plants.
We have taken parts in hundreds of events and celebrations. Take a look at our portfolio and review the range of tents to select a perfect, safe and reliable solution for your important event or your business.

Years of experience in cooperation with various restaurant business companies allow us to find the best solutions for the most unusual and exclusive orders. Therefore, we will find the best option for you or design an individual tent conforming to your requirements.

Our tents are multi-purpose; they are made to blend with the landscape, fit into any architectural forms and at the same time perform important functions.

We try to make our awnings not just functional, but also comfortable. Therefore, we offer unique solutions for creation of comfortable and convenient spaces for sports activities.

Our tents are characterized by durability and versatility as well as quality design. It makes them more than just functional premises and will help complement the site with a beautiful architectural solution.